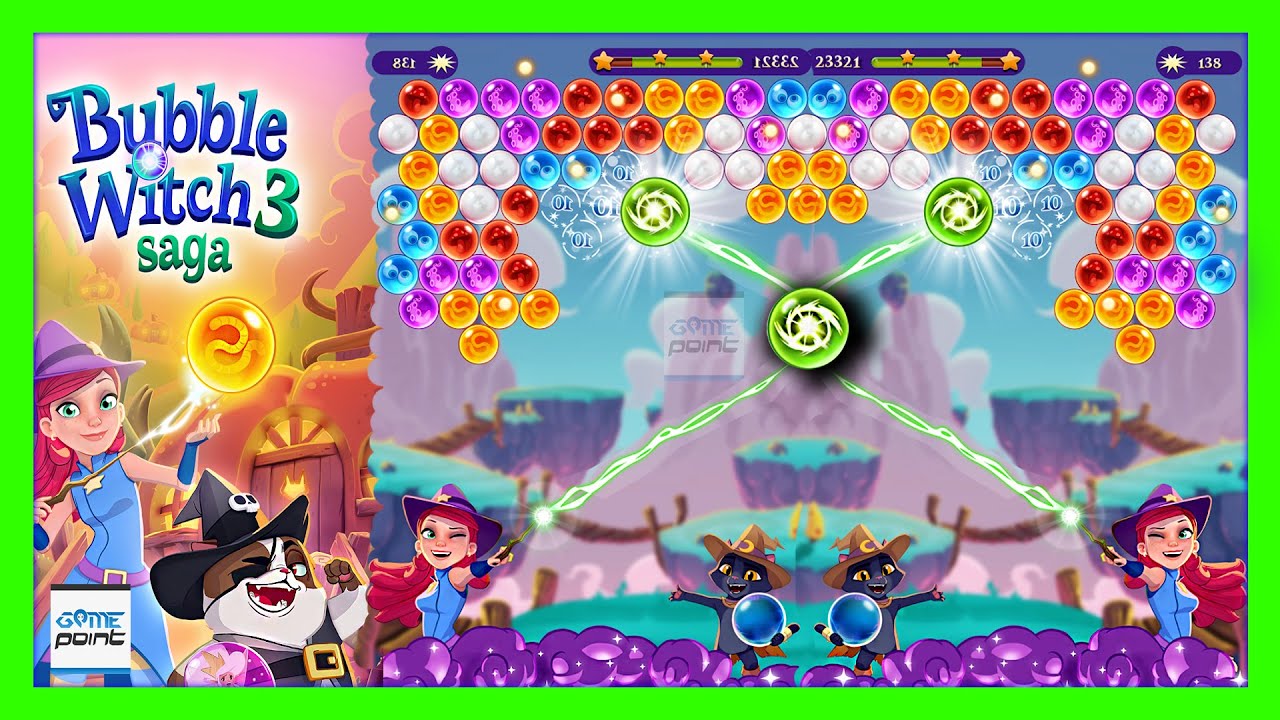 Hey Everyone, This Thursday we are playing now another Bubble Shooter Game | Bubble Witch 3 Saga Level 31 - 35 @Game Point PK on our Android 10 Mobile which was published by King Puzzle for Android and iOS devices. If you are enjoying the video, watch it till the end of the game. Then, hit the subscribe and 🔔 press the bell icon!
#gamepoint #bubbleshootergame #bubblewitch3 #bolwaligame #bubblewitchsagagame
👍 If you enjoyed the video, drop a like!
Subscribe our another gaming channel✨🧶:
🏆 Vincitore Gamers:
https://www.youtube.com/c/VincitoreGamers/featured
► Download the Bubble Witch 3 Saga Game🍭 :
📲 iOs:
https://apple.co/37LnVhg
📲 Android:
https://bit.ly/34B9vOE
📲 Amazon:
https://amzn.to/3nCCYiJ
📱 GAME DESCRIPTION || Bubble Witch 3 Saga
Description. Bubble Witch 3 Saga – A magical bubble shooting puzzle game from the makers of Candy Crush Saga. The newest bubble shooter game in the popular Bubble Witch series. Stella the Witch is back and she needs your help to defeat Wilbur in this exciting adventure! (
#Wikipedia
)
📺 MORE GAMING VIDEOS
Most Popular Uploads:
https://www.youtube.com/c/GamePointPK/videos?view=0&sort=p&shelf_id=6
Bubble Witch 3: Bubble Witch 3 Saga Playlist:
https://bit.ly/34EiFKl
📌📌 Watch our other Upload 📌📌
💠 Craft Candy Blast:
https://youtu.be/Af8l1mezqac​​​​​
🔶 Ludo Star 2 Online Game:
https://youtu.be/8YZnymaEk0I
💠 Subway Surfers 9th Birthday:
https://youtu.be/ZuolUErUiN4
🔶 Candy Crush Game Video:
https://youtu.be/k3hyt6d8nBo
💠 Bubble Freedom Shooter Game:
https://youtu.be/f-JU7XJ0X6g
🔶 Balloon Game for Kids:
https://youtu.be/qGwnjMUfBg0
💠 Ludo King Gameplay:
https://youtu.be/oVHxRYwKEHs​​
🔶 Bubble Shooter Rainbow:
https://youtu.be/lvbAt67YgMU​​​
💠 Fruit Ninja 2 Game Online:
https://youtu.be/llrrX8yjHas​​​​
🔶 Bricks Ball Crusher:
https://youtu.be/qN76iLSxxwg
💠 Angry Birds Rio:
http://bit.ly/WatchAngryBirdsRio
► About Game Point PK
Game Point PK is all about playing the latest trending games, games reviews, best games of the month. Subscribe Now to stay updated about
#gaming
. 🔔SUBSCRIBE -
https://youtube.com/GamePointPK?sub_confirmation=1
💎Join Our Facebook Group:
https://www.facebook.com/groups/GamePointPK
👤 FOLLOW US
Facebook:
https://www.facebook.com/GamePointPakistan
Website:
https://www.gamepointpk.com/
RSS Feed:
http://feeds.feedburner.com/blogspot/Hwlxnu
TikTok:
https://www.tiktok.com/@gamepointpk?lang=en
Twitter:
https://twitter.com/GamePointPK/
Instagram:
https://www.instagram.com/GamePointPK/